The EPAL box pallet is the indispensable workhorse of the automotive industry and the most widely-used exchange box pallet in the world. It is mainly used in Europe.
EPAL box pallets are safe across borders.
EPAL box pallets guarantee smooth transport of your goods.
EPAL box pallets ensure stable storage of your goods.
EPAL box pallets ensure maximum occupational safety thanks to their high quality.
---
Boards: 4
Hinged panels: 2
Construction: steel lattice framework
Length: 1,200 mm
Width: 800 mm
Height: 970 mm
Weight: 70 kg if produced after 2011; prior to that 85 kg
Safe working load: 1,500 kg if produced after 1990; prior to that 900 kg
Loading capacity: 0.75 m3
Superimposed load: max. 6,000 kg when stacking pallets on a horizontal, flat, rigid surface
---
1. The embossed EPAL in oval mark
2. Embossed with the letter "Y", number stamped/stencilled on
3. EPAL control seal
4. Embossed inscriptions net weight/safe working load/superimposed load/loading capacity
5. Name and location of the producer or the EPAL licence number and year of production
If EPAL box pallets display one or more of the following faults, the box pallets are not exchangeable and should be repaired in accordance with EPAL's Technical Regulations. Non-exchangeable EPAL box pallets: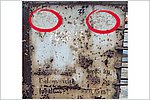 The essential identification markings EPAL in oval are missing or illegible.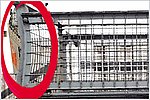 The stacking frame or the corner posts are deformed.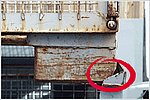 The base frame or feet are bent in such a way that the box pallet no longer stands evenly on four feet or can no longer be safely stacked.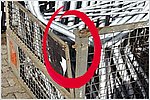 The hinged front wall panel can no longer be opened or closed.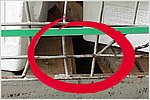 A board is missing or broken.
Further characteristics for bad general condition:
The tubular steel mesh is torn in such a way that the wire ends protrude inwards or outwards (one mesh per wall may be missing).
The general state is so poor due to rust or dirt that this may lead to contamination of the payload.
EPAL box pallets that are not fit for use should be repaired in accordance with the EPAL Technical Regulations.
EPAL box pallets may only be repaired by licensed repair operations.
The repairing of EPAL box pallets without an EPAL licence shall be legally prosecuted.
Only dimensionally accurate components may be used in accordance with the EPAL Technical Regulations.
Following repair, EPAL box pallets should be fit for use.
Compliance with the ISPM 15 standard for all wooden components is an essential condition for the unrestricted use of load carriers in the international movement of goods. EPAL pallets are produced and repaired according to the strict IPPC (International Plant Protection Convention) standard and can therefore be used across borders.
For EPAL box pallets, ISPM 15 treatment is an optional service that can be requested and ordered when purchasing new and repaired EPAL box pallets.